INDAAF
International Network to study Deposition and Atmospheric chemistry in AFrica
Deposition and atmospheric composition monitoring in Africa
INDAAF (International Network to study Deposition and Atmospheric composition in Africa) is a programme dedicated to the long-term monitoring of the atmospheric composition and of the atmospheric deposition fluxes in Africa.
INDAAF is a national observatory (Service National d'Observation, SNO) of the Institut National des Sciences de l'Univers (INSU) of the Centre National de Recherche Scientifique (CNRS), also supported by the Observatoire Midi-Pyrénées (OMP) and the OSU-EFLUVE (Observatoire des Sciences de l'Univers – Enveloppes Fluides de la Ville à l'Exobiologie), with the help of the Institut de Recherche pour le Développement (IRD). It corresponds to the union of the previously labeled IDAF (IGAC DEBITS Africa) network and the "Sahelian Dust Transect" network.
INDAAF contributes to international initiatives through (1) its contribution to the long term endorsed DEBITS (Deposition of Biogeochemically Trace Species) activity part of the IGAC (International Global Atmopsheric Chemistry) programme and (2) its contribution as an official contributing network to the WMO Global Atmospheric Watch programme (GAW) and to WMO Sand and Dust Storm Warning Advisory and Assessment System (SDS-WAS).
The INDAAF long term monitoring network is composed by 8 stations in West and Central Africa (Mali, Niger, Côte d'Ivoire, Senegal, Benin, Congo, and Cameroun). 2 affiliated stations are located in South Africa and South Tunisia.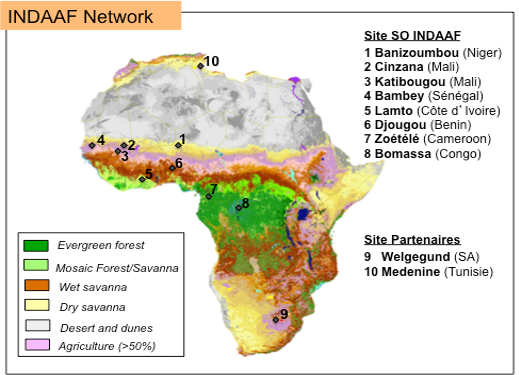 Measurements allows to quantify (1) the monthly concentrations of several gases of atmospheric interest, (2) the chemical composition of aerosols at the weekly scale, (3) the chemical composition (mineral and organic) of precipitation at the event scale, (4) the deposited mass flux at the weekly scale and the wet deposition mass flux at the event scale, (5) the mass concentration of particulate matter (<10 µm) at the hourly scale.